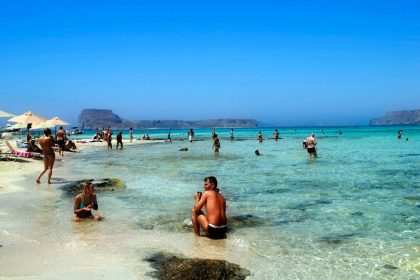 There is nothing quite like a Chania vacation with its splendid beaches and majestic mountain ranges. One of the most popular aspects of a vacation in Chania is the universal appeal of the island for travellers from across the globe. Children thrive on its outdoor environment which boasts a long, comfortable summer-like climate that is perfect for exploring the natural mysteries of this ancient island.
Young professionals will cherish the nightlife and robust social scene that emerges at night when things heat up on the dance floor. As a break from the stressful life of urban working professionals, a Chania vacation is the perfect prescription for ensuring a well-rested yet invigorating holiday.
Older visitors will revel in the city's rich culinary offerings that go well beyond the traditional Greek fare, with chefs interested in showing the island's visitors how versatile the cuisine can really be.
In addition, couples looking for a quiet escape from the busy world can leave their worries at the door and take advantage of the beach culture that will welcome them with open arms. There is also a thriving theatre community that pushes the boundaries of the art form with their heartfelt renditions of everything from classics to local favourites. On a Chania vacation, a wide range of options are available to visitors looking to stay close to the Hotel Esplanade's accommodations or delve into the town's plentiful possibilities.