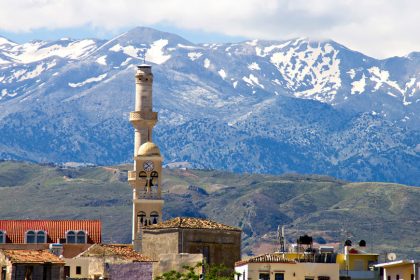 Chania town
The most beautiful town in Crete is the town of Chania. Built on the site of ancient Kydonia and has lived through many invaders. The different civilizations have left their effects on the castles and walls, ancient sites, monasteries and churches.
All the roads lead to the market square and the center of Chania. Public Market is a large building with 70 commercial shops which sell all Cretan products. It has the shape of cross and was built in 1913. You can go there for shopping and souvenirs.
Only 5 minutes from Chania center you can walk to the Public Gardens made in 1870. There you have the chance to see the Cretan wild goat KRI-KRI. Next to the Gardens is situated the Park of Peace and Friendship of the Nations. It is worth visiting both of them because they are the most beautiful gardens in Crete.
Nea Chora is to the west of the town of Chania with its clear blue sandy beach. Along the seaside there are many fish taverns . It is really fantastic if you are there during the sunset having fresh fish for dinner, kalamari, shrimps, octopus and Cretan salad.
The old town of Chania
The old town of Chania is built around the old harbour. It still keeps its Venetian style and atmosphere. Its paved sidewalks are narrow and the houses around , nowdays, have become hotel-apartments, rooms for rent, shops selling popular art and tourist goods or Cretan style restaurants. The old harbour of Chania is the attraction of tourists and local people for any time of the day.
The lighthouse in Chania
Our light-house has been built between 1595-1601 by Venetians. From the original Venetian light-house, which dominated the entrance of the harbor in Chania, only the base survives today. The present light-house that has been rebuilt by the Egyptian occupation during 1821-1840 is different from the original and looks like a minaret. By the end of Turkish occupation, the stairs were built at the East side of it. Inside there is a staircase made from stone and leading to the balcony and the glass tower. The height of our lighthouse in Chania is 26 meters high from the sea level. Its light can be seen from 7 miles away.
It is the oldest lighthouse in Crete, in the Mediterranean Sea and maybe one of the oldest in the world!
During your holidays in Chania or even if you are anywhere in Crete you must come to visit the old town with the light-house in the Venetian harbour of Chania in Crete.